7

Don't Rush into Coding
7.1

Designing before coding
You have to believe that software design is a craft worth all the intelligence, creativity, and passion you can muster. Otherwise you will not look past the easy, stereotyped ways of approaching design and implementation; you will rush into coding when you should be thinking. You'll carelessly complicate when you should be relentlessly simplifying—and you'll wonder why your code bloats and debugging is so hard.


The Art of UNIX Programming (Raymond 2003) (Our bold.)
7.1.1

The urge to code

At the moment you receive the specifications for your app, it is tempting to rush into coding. And that is perfectly normal: we're R developers because we love building software, so as soon as a problem emerges, our brain starts thinking about technical implementation, packages, pieces of code, and all these things that we love to do when we are building an application.

But rushing into coding from the very beginning is not the safest way to go. Focusing on technical details from the very beginning can make you miss the big picture, be it for the whole app if you are in charge of the project, or for the piece of the whole app that you have been assigned. Have you ever faced a situation in a coding project where you tell yourself "Oh, I wish I had realized this sooner, because now I need to refactor a lot of my code for this specific thing"? Yes, we all have been in this situation: realizing too late that the thing we have implemented does not work with another feature we discover along the road. And what about "Oh I wish I had realized sooner that this package existed before trying to implement my own functions to do that!"34 Same thing: we're jumping straight into solving a programming problem when someone else has open-sourced a solution to this very same problem.

Of course, implementing your own solution might be a good thing in specific cases: avoiding heavy dependencies, incompatible licensing, the joy of the intellectual challenge, but when building production software, it is safer to go for an existing solution if there is one and it fits in the project: existing packages/software that are widely used by the community and by the industry benefit from wider testing, wider documentation, and a larger audience if you need to ask questions. And of course, it saves time, be it immediately or in the long run: re-using an existing solution allows you to save time re-implementing it, so you save time today, but it also prevents you from having to detect and correct bugs, saving you time tomorrow.35

Note also that assessing that a dependency/technology is a good choice for an application is not an easy task: there is a difference between thinking something will be the good choice and knowing that this choice is the correct one. Most of the time, when faced with a new technology, it makes sense to take some time to write a small prototype that tests the features we want to use. This process of prototyping small applications to test features is made easier notably by using the shinipsum package, which we will see in Chapter 9.

Before rushing into coding, take some time to conceptualize your application/modules on a piece of paper. That will help you get the big picture of the piece of code you will be writing: what are the inputs, what are the outputs, what packages/services can you use inside your application, how will it fit in the rest of the project, and so on and so forth.
7.1.2

Knowing where to search

Being a good developer is knowing where to search, and what to search for. Here is a non-exhaustive list of places you can look if you are stuck/looking for existing packages.
Web
Mozilla developer center is one of the most comprehensive resource platforms when it comes to web technologies (HTML, CSS, and JavaScript)
Google Developer Center also has a series of resources that can be helpful when it comes to web technologies.
FreeCodeCamp contains more than 2000 hours of free courses about web technologies, plus a blog and forum.
7.1.3

About concept map

Using a concept map to think about your app can be a valuable method to help you grasp the big picture of your application.

Concept maps are a widely used tool, in the software engineering world and in many other fields. The idea with concept maps is to take a piece of paper (or a digital tool) and draw all the concepts that come to mind for a specific topic, and all the relationships that link these concepts together. Drawing a concept map is a way to organize the knowledge of a specific topic.

When doing this for a piece of software, we are not trying to add technical details about the way things are implemented: we are listing the various "actors" (the concepts) around our app, with the relationships they have. For example, Figure 7.1 is a very simple concept map of the hexmake (Fay 2021g) app.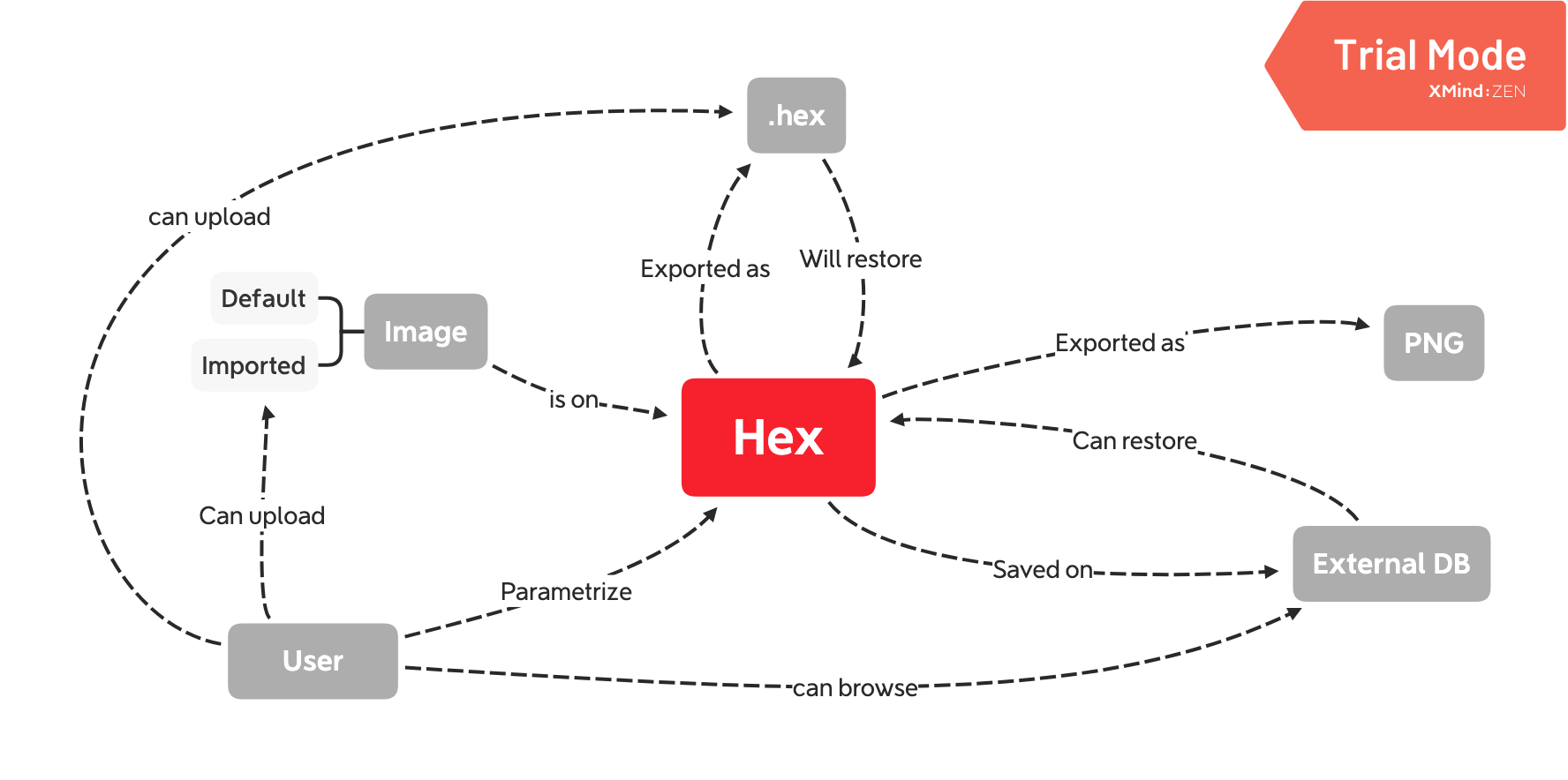 As you can see, we are not detailing the technical implementations: we are not writing the external database specification, the connection process, how the different modules interact with each other, etc. The goal of a concept map is to think about the big picture, to see the "who and what" of the application. Here, creating this concept map helps us list the flow of the app: there is a user that wants to configure a hex, built with a default image or with an uploaded one, and once this hex is finished, the user can either download it or register it in a database. This database can be browsed and restore hex. The user can also export a .hex file, that can restore an app configuration.
Once this general flow is written down, you can get back to it several times during the process of building the app, but it is also a perfect tool at the end to see if everything is in place: once the application is finished, we can question it:
Can we point to any concept and confirm it's there?
Can we look at every relationship and see they all work as expected?
Deciding which level of detail you want to put in your concept map depends; "simple" applications probably do not need complex maps. And that also depends on how precise the specifications are, and how many people are working on the project: the concept map is a valuable tool when it comes to communication, as it allows people involved in the project to have visual clues of the conceptual architecture of the application.
But beware: very complex maps are also unreadable! In that case, it might make sense to divide into several concept maps: one with the "big picture", and smaller ones that focus on specific components of your application.
7.2

Ask questions

Before starting to code, the safe call will be to ask your team/client (depending on the project) a series of questions just to get a good grasp of the whole project.

Here is a (non-exhaustive) list of information you might need along the way.

Side note: Of course, these questions do not cover the core features of the application. We're pretty sure you have thought about covering this already. These are more contextual questions which are not directly linked to the application itself, yet that can be useful down the line.
---